Philippine Children's Hunger Fund
Feeding Philippine Children Suffering Due To Poverty
Philippine Projects
We are a non profit organization giving free nutritious meals to the needy children.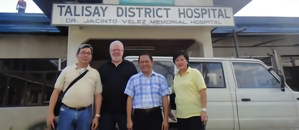 Challenges and Goals
Larry MacKay, International Director of Philippine Children's Hunger Fund, takes a picture with the staff at Talisay District hospital
Narrative Report
Summative Narrative Report – ANSA Facilities

Letter from the President
This year has been a challenge to raise the necessary support to make a difference in children's lives in the Philippines; helping us feed, educate and provide medical care. I'm so glad that some charities and individuals chose to make a charitable contribution to the Philippine Children's Hunger Fund. On behalf of the many desperate children and their families, we say THANK YOU!

Mission
The Philippine Children's Hunger Fund (PCHF) is dedicated to helping children in the Philippines that are suffering due to poverty. PCHF will provide children with a Christian education, clothing, food, shelter, and medical care. Much of our mission will be to ship containers of medical supplies, medical equipment and medicines to hospitals and clinics that treat children and families.
About Us
Philippines Children's Hunger Fund is a 501(c)3 non profit organization that was established by Colin Aldridge, JoAnn Gavic and Heather Symth to help children in the Philippines. In the many travels of International Director, Larry MacKay, the suffering of children in the Philippines, due to poverty, is a heartbreaking situation that can only be relieved by the caring support of many charities worldwide.
YOU CAN DONATE ONLINE
Your gift to Philippine Children's Hunger Fund could be matched dollar for dollar by your employer. Many employers sponsor matching gift programs and will match any charitable contributions or volunteer hours made by their employees, retirees and/or employees' spouses. To find out if your company has a matching gift program, please inquire with your staff leadership.